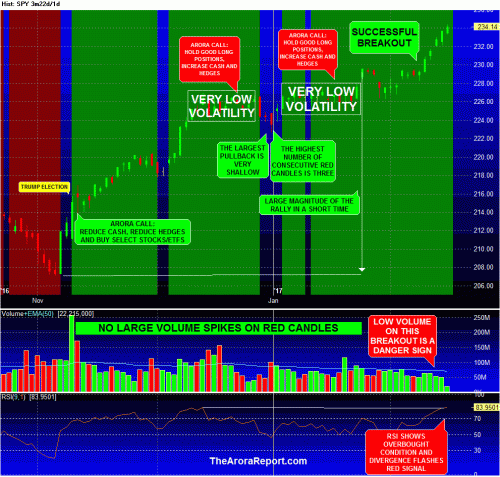 The fundamental case for Dow 30,000 during Donald Trump's first term has strengthened as earnings season winds down.
Interestingly, this is happening at a time when, from a technical perspective, the stock market has staged a successful breakout of low volatility since the election. Still, there are two danger signs, as shown on the annotated chart. Please click here for the annotated chart.
The biggest single factor in the long-term direction of stocks is earnings growth. The current consensus for S&P 500 Index SPX  operating earnings (often traded using the SPDR S&P 500 SPY ), are $133 per share. According to the Arora Report's analysis of Trump's proposals, tax cuts could add about $13 to S&P 500 earnings. Deregulation could add another $7. If gross domestic product growth were to accelerate to 4%, S&P 500 earnings could reach as high as $190 by the end of Trump's first term.
Given the potential growth in the economy, in spite of the Federal Reserve's plan to raise interest rates, the price-to-earnings (P/E) ratio may stay in the range of 18 to 21. A P/E of 20 applied to $190 in earnings leads to 3,800 in S&P 500. (The benchmark index is now at around 2,347.)
For the Dow Jones Industrial Average DJIA,  that translates to reaching over 33,450 by the end of 2021, Trump's first term. (The Dow is currently at 20,620.) Allowing for some hiccups, Dow 30,000-plus is doable…Read more at MarketWatch
You are receiving less than 2% of the content from our paid services …TO RECEIVE REMAINING 98%, TAKE A FREE TRIAL TO PAID SERVICES.
Please click here to take advantage of a FREE  30 day trial.
Check out our enviable performance in both bull and bear markets.
FREE: SUBSCRIBE TO 'GENERATE WEALTH' NEWSLETTER