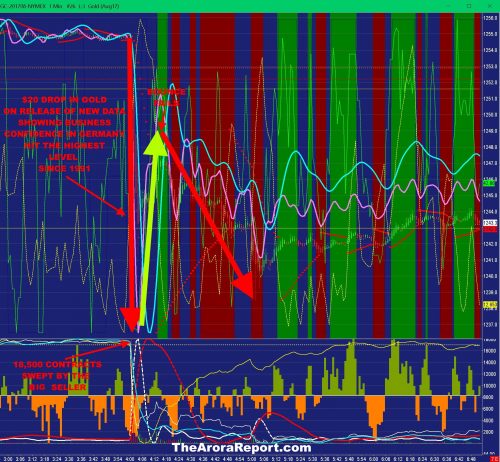 After a brief retracement, gold was in a strong rally mode. Gold gurus were issuing buy signals based on technical analysis and their followers were buying in full force.  Seeing the momentum to the upside, the momo crowd was aggressively jumping into gold. All of a sudden, gold fell $20.  Initially the gurus were at a loss as to what happened. Even a major news wire that a lot of media depends on wrote that they did not have a clue what happened.
As the time passed, media and gurus are embracing a theory that the reason for the fall may have been a fast finger mistake.  In my view, it is likely that it was not a mistake but a decision based on fundamental news.
Early on I informed subscribers to The Arora Report as to what really happened in the Morning Capsule that is delivered every trading morning and extensively covers gold, often providing original insights.  Now I am sharing with you a likely reason for the trigger.  This trigger came after $19 billion bank bailout by the Italian government.  Italy has large gold reserves.  How will Italy finance the bailout?  It is not likely but Italy selling gold cannot be ruled out.  Let us start with a chart.
The Annotated Chart
The annotated chart shows that the real reason was Germans becoming a little too jubilant. Gold just does not like jubilation. It appears someone had a finger on the trigger waiting for the news of German business confidence after the Italian bank bailout.
Please click here to see the annotated chart.
The chart is of gold futures (GC_F).  The chart shows that after the $20 fall, there was a reflex rally but the rally failed as shown on the chart…Read more at Kitco
You are receiving less than 2% of the content from our paid services …TO RECEIVE REMAINING 98%, TAKE A FREE TRIAL TO PAID SERVICES.
Please click here to take advantage of a FREE  30 day trial.
Check out our enviable performance in both bull and bear markets.
FREE: SUBSCRIBE TO 'GENERATE WEALTH' NEWSLETTER