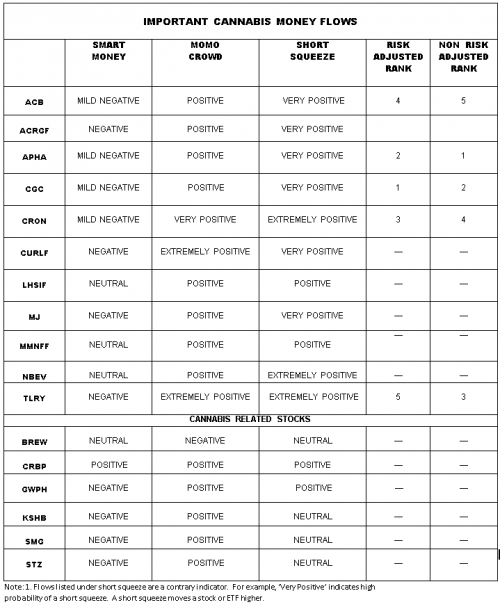 Serious marijuana investors ought to pay attention to the complacency that's creeping into the stock market. Historically when complacency abounds, stocks fall, unless there are new positive fundamental developments or new short-squeezes.
A lot of money is to be made in marijuana. However, there are times when it is important to preserve capital. Since I wrote "How to potentially become a marijuana millionaire, albeit carefully," a lot of money has been made in marijuana stocks by following segmented money flows. Let's explore the latest money flows in marijuana stocks with the help of a chart.
Chart
Please click here for a chart showing segmented money flows in 17 popular marijuana stocks. Please note the following:
• As the chart shows, Tilray TLRY,  has lost the No. 1 non-risk-adjusted ranking and is now No. 3. Aphria APHA,  is now ranked No. 1.
• Canopy Growth CGC,  continues to hold the top spot in the risk-adjusted-ranking. (More on rankings later.)
• Momentum (momo) crowd money flows are extremely positive in Curaleaf CURLF.  There is a lot of excitement about Curaleaf providing CBD products to CVS  the largest drug-store chain. This is a major positive development for marijuana investors. However, smart-money flows in Curaleaf are negative. This indicates that the "up" move in Curaleaf is overdone. (The smart money is professional investors.)
• Momo crowd money flows in Cronos CRON,  are very positive. Cronos has an investment from cigarette giant Altria MO.  However, smart money flows in Cronos are mildly negative.
• Aurora Cannabis ACB got a boost when it attracted Nelson Peltz as an adviser. Peltz is an accomplished person and will certainly be a big help to Aurora Cannabis. Momo crowd money flows in Aurora Cannabis are positive but smart money flows are mildly negative.
• Acreage Holdings ACRGF has attracted a number of politicians to its board. However, in spite of heavy publicity, momo crowd money flows have fallen from extremely positive to positive…Read more at MarketWatch.
A knowledgeable investor would have turned $100,000 into over $1,000,000 with the help from The Arora Report. NOW YOU TOO CAN ALSO SPECTACULARLY SUCCEED AT MEETING YOUR GOALS WITH THE HELP OF THE ARORA REPORT. You are receiving less than 2% of the content from our paid services. …TO RECEIVE REMAINING 98% INCLUDING MANY ATTRACTIVE INVESTMENT OPPORTUNITIES, TAKE A FREE TRIAL TO PAID SERVICES.
Please click here to take advantage of a FREE  30 day trial.
Check out our enviable performance in both bull and bear markets.
FREE: SUBSCRIBE TO 'GENERATE WEALTH' NEWSLETTER