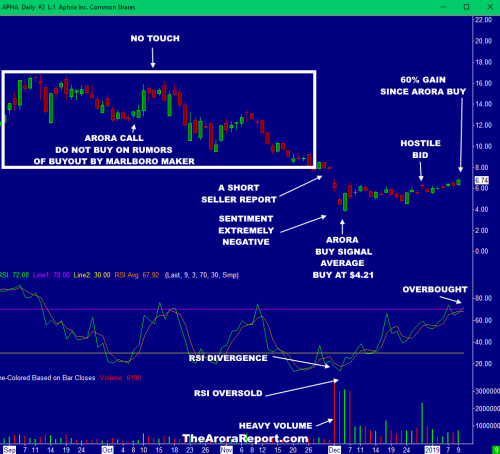 When I first wrote that some investors will make millions in marijuana but many more will lose their shirt, investors had difficulty understanding.
After all, many thought that if marijuana was going to be big, all they had to do was buy a couple of stocks and hold them forever. Now that many investors have experienced volatility in marijuana stocks, and I have published a large number of successful marijuana trades, investors who were previously criticizing me are beginning to understand that it takes knowledge, skill and the proper mindset to make money in marijuana stocks.
When I wrote "How to potentially become a marijuana millionaire, albeit carefully," the most important word in the headline was "carefully." Let us explore with the help of a chart as to how a previous "don't touch" marijuana stock became a buy.
Chart
Please click here for an annotated chart of Aphria APHA. Please note the following:
• The chart shows when the Arora buy signal was given. Using the Arora Trade Management Guidelines, the average buy price was $4.21. Hindsight shows that the buy signal was given close to the bottom.
• The position now has a 60% gain in a short time.
• The chart shows that during the time when there was a lot of bullishness about Aphria, it was a don't-touch stock, per the six screens of the ZYX Change Method.
• When rumors surfaced that Marlboro maker Altria MO would buy Aphria, The Arora Report made a specific call. The call was to not buy Aphria on the rumors. At that time I received many emails questioning that call, especially since The Arora Report is well-known for buying companies that eventually get bought out. To date, 144 of our portfolio companies have been acquired, producing large gains. Please see "Here's an evergreen strategy to make money in a volatile stock market."
• Interestingly, The Arora Report made a call to buy marijuana stock Cronos CRON just before it received a major investment from cigarette maker Altria. This call produced large gains in a very short time.
• The chart shows that a short-seller report about fraud at Aphria caused the stock to plunge, ultimately providing a buying opportunity.
• The chart shows that, at the time of the Arora buy signal, sentiment on Aphria had turned extremely negative. Sentiment, at extremes, is a contrary signal. In plain English, this means buy when everybody else turns negative.
• The chart shows that at the time of Arora buy signal, RSI (relative strength indicator) was oversold. In contrast, RSI is now overbought…Read more at MarketWatch.
A knowledgeable investor would have turned $100,000 into over $1,000,000 with the help from The Arora Report. NOW YOU TOO CAN ALSO SPECTACULARLY SUCCEED AT MEETING YOUR GOALS WITH THE HELP OF THE ARORA REPORT. You are receiving less than 2% of the content from our paid services. …TO RECEIVE REMAINING 98% INCLUDING MANY ATTRACTIVE INVESTMENT OPPORTUNITIES, TAKE A FREE TRIAL TO PAID SERVICES.
Please click here to take advantage of a FREE  30 day trial.
Check out our enviable performance in both bull and bear markets.
FREE: SUBSCRIBE TO 'GENERATE WEALTH' NEWSLETTER