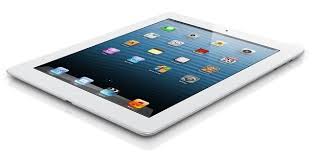 Today, Apple is continuing its move higher.   The trigger is a report in the Wall Street Journal that Apple has signed a deal with China Mobile.  The WSJ report shows that the traders were correct in looking forward yesterday and not reacting negatively to a subsidiary of China Mobile pulling iPhones from its website.
To be successful, investors need to not drive looking in the rear view mirror and also need to avoid cognitive bias.  Cognitive bias as it relates to stocks is a pattern of focusing on good news and ignoring the bad news or vice versa.  Since the iPad has been the major contributor to the recent Apple rally, it is important to look at the iPad going forward.
There are two critical points here.  First, momentum of tablet adoption is likely to slow.  According to IDC, tablet shipments in 2014 will grow only 22.2% compared to 53.5% growth rate in 2013.  The second important point is that Apple's tablet share is likely to fall.
Apple was first out of the gate with a tablet and rapidly built up a large market share.  As competitors catch up, Apple's share of the tablet market will fall similar to the patterns seen in smartphones.  In 2013, Apple tablet market share has already fallen to 35% compared to 45% in 2012; according to IDC Apple share will fall to 30.6% by 2017.
The question is who will benefit at the expense of Apple?  The answer is that it is not likely to be Google's Android but Microsoft's  Windows….Read more at Forbes
FREE: SUBSCRIBE TO 'GENERATE WEALTH' NEWSLETTER