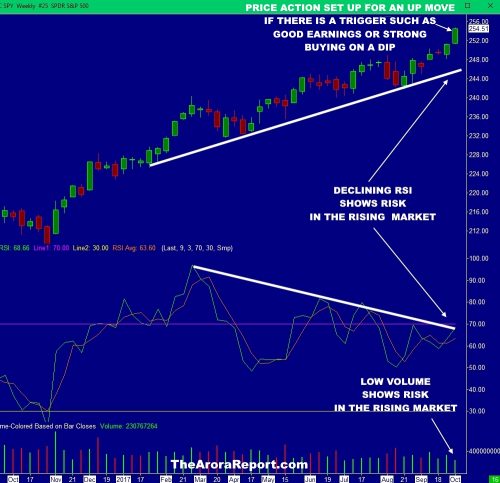 The Arora Report's forecast at the end of September that the stock market would rise at the beginning of October has proven to be correct.
That forecast stemmed from a common-sense observation over the past 30 years that at the beginning of a quarter, new pension fund money pours into the stock market.
Now there is another common-sense scenario based on the observations of over 30 years and what we know of our subscribers. The Arora Report subscribers include both private investors and money managers. There is a lot of dry tinder based on year-to-date performance of money managers. A little spark can easily lead to forced buying by some, but not all, money managers, leading to an increase in stocks.
There are a lot of nuances here, and many money managers remain true to their convictions. For this reason, let us first look at an annotated chart before exploring the potential of forced buying.
Chart
Please click here for the annotated chart of popular S&P 500 ETF SPY.  Similar conclusions can be drawn from the charts of the Dow Jones Industrial Average DJIA,  Nasdaq 100 ETF QQQ and small-cap ETF IWM.
Please note the following from the chart:
• The price action is set up for an explosive move up.
• RSI (relative strength index), which is a momentum indicator, is showing a negative divergence. In plain English, notice from the chart that as the prices have moved up, RSI is tracing lower highs.
In traditional technical analysis, negative RSI divergence is bearish. But traditional technical analysis does not work as well as it used to. This is an important concept for investors to understand. Please click here for more insights…Read more at MarketWatch
You are receiving less than 2% of the content from our paid services …TO RECEIVE REMAINING 98%, TAKE A FREE TRIAL TO PAID SERVICES.
Please click here to take advantage of a FREE  30 day trial.
Check out our enviable performance in both bull and bear markets.
FREE: SUBSCRIBE TO 'GENERATE WEALTH' NEWSLETTER