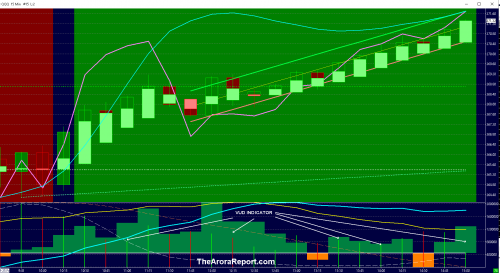 To gain an edge, this is what you need to know now.
Short Squeeze Takes Hold
Please click here for a chart of Nasdaq 100 ETF (QQQ).
Note the following:
In the Morning Capsule we wrote:


…it is Friday and short squeezes are common on Fridays. If a short squeeze occurs, there is potential for a rally.

A short squeeze has taken hold.
Our review of a large number of stocks shows that the short squeeze is particularly viscous in select momo stocks.
The VUD indicator is the most sensitive measure of net supply demand in real time.  Orange indicates net supply and green indicates net demand.
The chart shows that the VUD indicator was solid green with large amplitude in the morning.
The chart shows that even though the prices continued to march higher in the afternoon and the VUD indicator is mostly green, the amplitude of the VUD indicator is less than in the morning.  This indicates that the demand has not stayed as strong in the afternoon as it was in the morning but the momo crowd continues to buy on up momentum.
Money Flows
The momo crowd money flows since the Morning Capsule are 🔒 (To see the locked content, please take a 30 day free trial).
Smart money flows since the Morning Capsule are🔒 .
Short squeeze money flows are 🔒.
A Special Note To New Subscribers
Note the smart money behavior.  Smart money tends to sell into strength on strong up days.
New subscribers should consider adopting smart money's  way of investing and trading.
Sentiment
Sentiment is🔒.
Sentiment is a contrary indicator at extremes.  In plain English, this means that when sentiment becomes extremely positive it is time to sell and when sentiment becomes extremely negative it is time to buy.
Gold
The momo crowd money flows in gold are 🔒 since the Morning Capsule.
Smart money flows are 🔒 in gold  since the Morning Capsule.
Oil
The momo crowd money flows in oil are 🔒 since the Morning Capsule.
Smart money flows in oil are 🔒 since the Morning Capsule.
Buy Zones And Buy Now Ratings
🔒
Nibbling
🔒
Close
There are appear to be buy on close orders.
There is merit to watching the pattern of market on close orders as they represent the day's dominant net cumulative activity  by many professionals and funds.
A knowledgeable investor would have turned $100,000 into over $1,000,000 with the help from The Arora Report. NOW YOU TOO CAN ALSO SPECTACULARLY SUCCEED AT MEETING YOUR GOALS WITH THE HELP OF THE ARORA REPORT. You are receiving less than 2% of the content from our paid services. …TO RECEIVE REMAINING 98% INCLUDING MANY ATTRACTIVE INVESTMENT OPPORTUNITIES, TAKE A FREE TRIAL TO PAID SERVICES.
Please click here to take advantage of a FREE  30 day trial.
Check out our enviable performance in both bull and bear markets.
FREE: SUBSCRIBE TO 'GENERATE WEALTH' NEWSLETTER