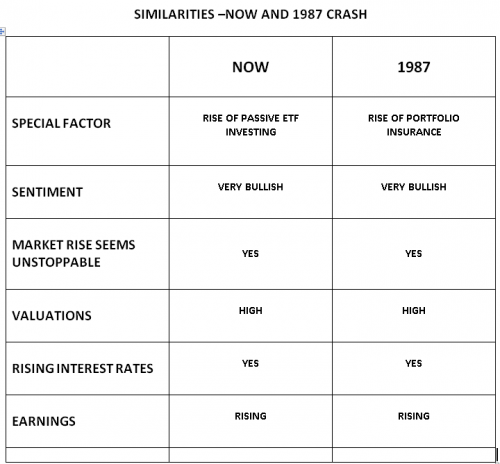 It was 30 years ago this month. I had millions of dollars of my own money invested in the stock market. Other investors did too, and everyone was making money.
On Oct. 19, 1987, the Dow Jones Industrial Average DJIA fell 22.6%. The S&P 500 Index SPX dropped 20.5%. It's known as Black Monday, or the Crash of '87.
Three decades on, could the stock market fall at a similar rate? If so, what should you do to protect yourself? These are the key questions investors ought to ponder now that U.S. stocks are collectively trading at record highs. History does not always repeat, but we must still learn from history. Let's explore.
The similarities
Please click here for a table showing the six similarities in the stock market between today and 1987.
The first similarity, but not others, needs some explanation. In 1987, money managers were buying stocks with impunity because they thought the stock market was a one-way street — large profits and little risk. They were sold portfolio insurance by the wizards of Wall Street that, in theory, should have protected them against losses. Portfolio insurance was accomplished through derivatives such as options and futures. With the benefit of hindsight, we now know that portfolio insurance not only failed to protect them, but it also accelerated selling.
A similar danger exists now in the popularity of exchange traded funds (ETFs), especially large flows of money in ETFs by passive investors. At this time, most investors do not have any appreciation for the risks in passive ETF investing, just as when, in 1987, most portfolio managers had no appreciation for the risks in portfolio insurance.Read more at MarketWatch
You are receiving less than 2% of the content from our paid services …TO RECEIVE REMAINING 98%, TAKE A FREE TRIAL TO PAID SERVICES.
Please click here to take advantage of a FREE  30 day trial.
Check out our enviable performance in both bull and bear markets.
FREE: SUBSCRIBE TO 'GENERATE WEALTH' NEWSLETTER