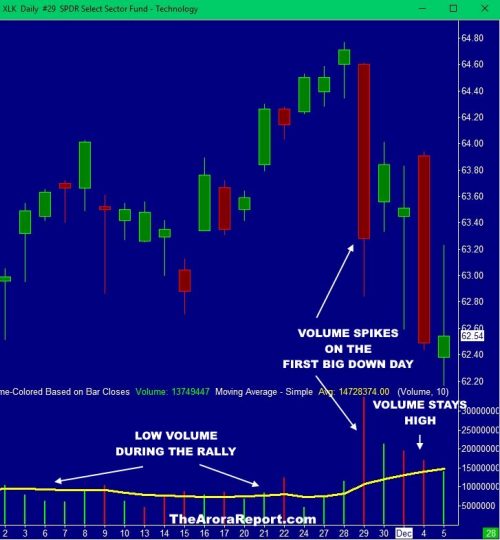 Prudence requires that stock market bulls take protective measures as Special Counsel Robert Mueller investigates President Trump's financial dealings, crossing a "red line" the president said he wouldn't allow.
Politics has the power to throttle stocks. On Dec. 1, when it was announced that former national security adviser Michael Flynn was charged with lying to the FBI, the Dow Jones Industrial Average DJIA, +0.06%  fell as much as 350 points.
Let's discuss Trump's red line and what it could potentially mean. Here are two charts, one short-term and one long-term.
Two charts
Please click here for an annotated chart of technology ETF XLK.  The reason it is important to pay attention to this ETF — in addition to broad-based ETFs such as S&P 500 ETF SPY, small-cap ETF IWM,  and Dow Jones Industrial Average — is because it carries popular stocks. Some of this ETF's holdings are Apple AAPL, Facebook FB, Google GOOG, GOOGL, Nvidia NVDA, and Micron Technology MU.
Please note the following from the chart:
• Volume was low during the rally phase in recent days.
• Volume spiked on the first big down day.
• Volume has stayed higher since the first down day.
The foregoing has negative implications.
Please click here for an annotated long-term chart of Nasdaq 100 QQQ… Read more at MarketWatch
You are receiving less than 2% of the content from our paid services …TO RECEIVE REMAINING 98%, TAKE A FREE TRIAL TO PAID SERVICES.
Please click here to take advantage of a FREE  30 day trial.
Check out our enviable performance in both bull and bear markets.
FREE: SUBSCRIBE TO 'GENERATE WEALTH' NEWSLETTER