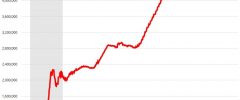 Investors have bought into what some bankers have been calling the "immaculate conception" thought up by a group of humans led by Federal Reserve Chairwoman Janet Yellen.
Does anyone see the danger to their money in believing that Fed policy makers can pull off such a miracle? The miracle, of course, is draining trillions of dollars in liquidity from the financial system without causing harm to the economy or securities.
A chart
Please click here to see a chart of the Fed's total assets. Notice how they ballooned from under $1 trillion to $4.5 trillion. The continued excitement in the stock market today shows that investors believe the Fed will execute its plan to unwind its massive balance sheet in a manner that will enable the stock market to continue its march upwards.
The Fed's balance sheet primarily consists of bonds that it bought in a program known as quantitative easing. The Fed's purchase of bonds drove interest rates to artificially low levels — record lows, in fact. Low rates, in turn, have artificially inflated prices of bonds, stocks and real estate.
The Fed can unwind its balance sheet by selling the bonds or simply letting the bonds run off. The Fed prefers the latter. "Run off" simply means that when the bonds mature, the proceeds are not reinvested. If the Fed were to sell the bonds, the supply could depress bond prices and raise interest rates. Quickly rising interest rates could cause a recession in the economy and a crash in the stock market…Read more at MarketWatch
You are receiving less than 2% of the content from our paid services …TO RECEIVE REMAINING 98%, TAKE A FREE TRIAL TO PAID SERVICES.
Please click here to take advantage of a FREE  30 day trial.
Check out our enviable performance in both bull and bear markets.
FREE: SUBSCRIBE TO 'GENERATE WEALTH' NEWSLETTER