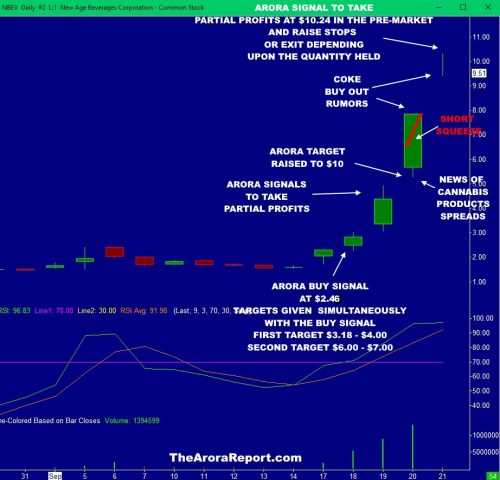 The 11 pointers I recently gave to investors to carefully make money in marijuana stocks have generated a lot of interest.
To read about the 11 pointers, please see "How to potentially become a marijuana millionaire, albeit carefully."
In addition to the bigger cannabis stocks such as Canopy Growth CGC, Cronos Group CRON, Aphria APHQF  and Tilray TLRY, there are lucrative trading opportunities in lesser-known stocks such as New Age Beverages NBEV, Pyxus International PYX  and The Green Organic Dutchman TGODF.
In some ways, Denver-based New Age Beverages is the new Tilray. Tilray has been the most explosive marijuana stock. (New Age Beverages is set to debut a line of CBD-related drinks.) New Age Beverages has just produced a 311% gain in three trading days on partial quantity for The Arora Report subscribers. In this respect, New Age Beverages is similar to Tilray stock.
Investors have been requesting a detailed, real-life example of a trade in a small marijuana stock. Let's examine the issue with a chart.
Chart
Please click here for an annotated chart of New Age Beverages. Please note the following:
• The Arora Report gave a buy signal at an average price of $2.46. The chart shows that this signal was given before the big runup. For the sake of transparency, here is a quote (slightly edited for the sake of readability) from the post given to The Arora Report subscribers at the time of the buy signal: "New Age Beverages is a small beverage company. Their name, New Age Beverages Corporation, says it all. New Age Beverages will unveil its line of cannabis beverages at the North American Convenience Show."
• At The Arora Report, target zones and stop zones are given simultaneously with buy signals, as shown on the chart. The first target zone was $3.18 to $4, and the second target zone was $6 to $7.
• The chart shows signals to take partial profits. Even though our algorithms were concluding that the probability of this stock going higher was high, it was still prudent to take partial profits for two reasons. First, unrealized profits can quickly disappear especially in volatile stocks. For this reason, it is prudent to lock in partial profits when there are quick gains. Second, our overall macro view on cannabis stocks was beginning to show that short squeeze was ending. This was especially important for some high-flying marijuana stocks such as Tilray. In our ZYX Short service, which is separate and distinct from ZYX Buy service that contains only buy recommendations, we gave a signal to short Tilray stock for super-aggressive investors. Since Tilray stock was hard to borrow, we also gave names of other stocks that could be sold short….Read more at MarketWatch.
A knowledgeable investor would have turned $100,000 into over $1,000,000 with the help from The Arora Report. NOW YOU TOO CAN ALSO SPECTACULARLY SUCCEED AT MEETING YOUR GOALS WITH THE HELP OF THE ARORA REPORT. You are receiving less than 2% of the content from our paid services. …TO RECEIVE REMAINING 98% INCLUDING MANY ATTRACTIVE INVESTMENT OPPORTUNITIES, TAKE A FREE TRIAL TO PAID SERVICES.
Please click here to take advantage of a FREE  30 day trial.
Check out our enviable performance in both bull and bear markets.
FREE: SUBSCRIBE TO 'GENERATE WEALTH' NEWSLETTER