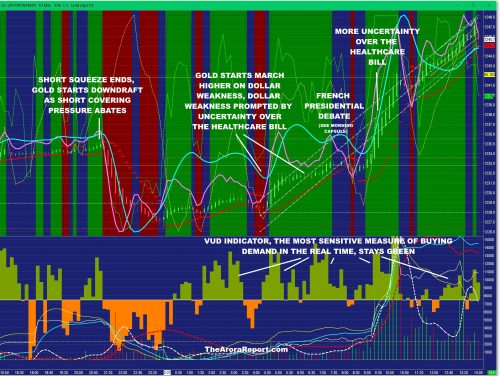 The real reason behind gold move is not what you think.  It is the healthcare bill as I will explain later in this article.  I will also show you how at The Arora Report we are extracting profits trade after trade from precious metals with a real live example of a trade that is in progress as of this writing.
In addition to taking very long term positions in precious metals, at The Arora Report we also selectively undertake short-term trades.  Short-term trades are not for everyone, but those who can handle them correctly, profits can be substantial.
To fully understand the real reason, let us build the necessary background with three charts.
Please click here to see the chart of gold futures showing what is happening now related to the healthcare bill.
Please click here for the gold chart showing short squeeze after the Fed rate hike.
Please click here for the long-term gold chart.
On March 13th in Gold And Silver Ratings we wrote,
'If gold does not go down on rate hike or there is no rate hike, aggressive traders may consider buying gold for a short-term trade using ETF GLD and or ETF SLV or equivalent in your country.  Those who want to juice up the trade with leverage and are   not comfortable with futures may consider triple leveraged miner ETF NUGT.'
On March 15th, according to the plan previously given, we entered NUGT trade.  NUGT is a triple leveraged gold miner ETF.  In accordance with February 13th post, many subscribers who are less aggressive entered GLD and SLV.  We have taken partial profits on NUGT trade and holding the rest with a nice protective stop.  Subscribers who traded GLD and SLV have followed similar partial profit taking.
The Critical Healthcare Bill, Connection To Gold
The next 48 hours are critical in passing the healthcare bill in the House.  This bill will be Trump's first real major success or failure…Read more at Kitco
You are receiving less than 2% of the content from our paid services …TO RECEIVE REMAINING 98%, TAKE A FREE TRIAL TO PAID SERVICES.
Please click here to take advantage of a FREE  30 day trial.
Check out our enviable performance in both bull and bear markets.
FREE: SUBSCRIBE TO 'GENERATE WEALTH' NEWSLETTER