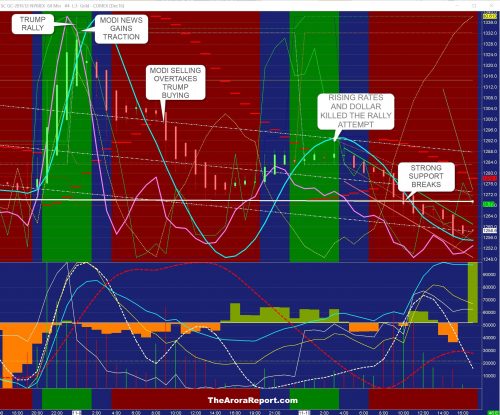 Before the election, it was almost universally predicted that if Trump was to be elected, gold would jump $100 – $200 right away.  There was a prediction from a prominent analyst that gold would jump to $1,850.  I never bought into the hype because the hard data that our algorithms depend upon was showing that any bounce would be met with selling.  These are that same algorithms that gave a signal to backup the truck and buy silver at $17.73 before the big run to $50. The algorithms then gave a signal to sell all of the silver at $48.50.  These algorithms also gave a backup the truck signal to buy gold in the $600 range with an average of $663 before a run to $1904.  Then correctly gave a signal to sell half of the gold at the exact top at $1904 and put a stop on the remaining at $1750, subsequently gold fell to the $1000 range.
After the election results started leaking out, gold jumped to $1339 before crashing to about $1250.  Through my extensive global resources, I was quickly able to figure out the real reason and shared it in our regular Morning Capsule with paying subscribers.  In the meanwhile, the media in the western world apparently did not get the memo and continues to show bewilderment as to what really happened.  For this reason, I decided to share the real reason with gold investors who are not our paying subscribers.
The Annotated Chart Tells The Story
The real reason for gold's fall after the initial rally on Trump election is shown on the chart.
Click here to see the annotated chart of gold futures showing what really happened.  
The chart shows how Trump buying was met by Modi selling.  Modi selling finally overtook Trump buying.  A subsequent budding rally attempt failed as interest rates rose and dollar strengthened.
How Modi Killed The Rally
India is often the biggest source of demand for physical gold.  Indian Prime Minister Modi has directed  that 500 and 1000 rupee notes be banned.
This is a huge deal.  These notes represent 20% of cash value in circulation and 80% of cash outstanding…Read more at Kitco
You are receiving less than 2% of the content from our paid services …TO RECEIVE REMAINING 98%, TAKE A FREE TRIAL TO PAID SERVICES.
Please click here to take advantage of a FREE  30 day trial.
Check out our enviable performance in both bull and bear markets.
FREE: SUBSCRIBE TO 'GENERATE WEALTH' NEWSLETTER