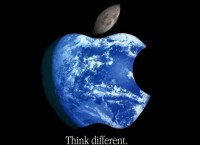 Since Friday, there have been three new ominous data points for Apple, which is scheduled to report earnings on July 23, 2013 after the market close.
First Samsung reported lower than expected earnings estimates.  Galaxy S4 from Samsung is the main rival of iPhone 5.  Lower than expected earnings from Samsung are due to slowing sales of Galaxy S4.  (For a more detailed analysis, please see Samsung Earnings Outlook Suggests Saturation In High End Phones.)
Taiwan's HTC, another big player in the high end smartphone market, also reported lower than expected earnings.  HTC reported operating income of NT$1.05 billion on revenues of NT$70.70 billion.   In Taipei, HTC stock fell about 5% to the lowest level since 2005.
HTC has not been able to compete with Samsung and Apple on large advertising budgets but its flagship HTC ONE is one of the best phones in terms of specifications and performance on the market.  In my analysis after a careful study of HTC earnings, this earnings miss is mostly due to saturation in the high end smartphone market.
Investors disregarded negative data points from Samsung and HTC and ran up Apple stock to $422.47 this morning in the pre-market.  Then investors were hit with fresh evidence for a bearish view.  A report by Wedge Partners said that Apple has cut its iPhone production forecast by 20% for the second half of 2013 to 90 – 100 million phones.  Apple stock promptly fell to $410.62.
Apple stock is oversold but it appears that the three new negative data points are still not fully discounted in Apple stock price…Read more at Forbes
FREE: SUBSCRIBE TO 'GENERATE WEALTH' NEWSLETTER