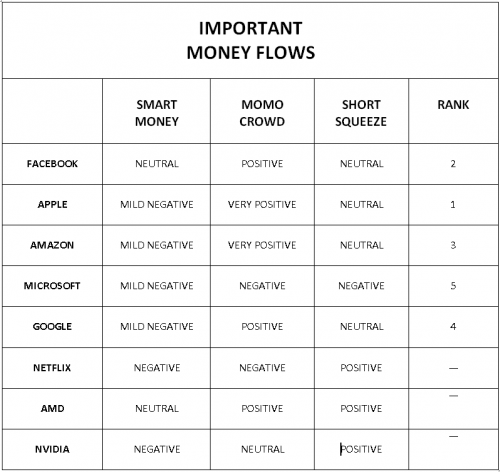 I have been getting a flood of requests from investors for an update on smart-money flows in popular technology stocks.
I previously wrote about this on June 15 and June 16.
The highest interest among investors is in Advanced Micro Devices AMD,  and NVDA.  Both stocks have recently had several positive news triggers. However, both have pulled back in spite of that. Perhaps this is the reason for the very high interest among investors who we hear from.
The interest level in FAAMG stocks is high but pales in comparison to that for these two. The FAAMG stocks are Facebook, Apple, Amazon, Microsoft and Google parent Alphabet. The popular FAANG acronym includes Netflix but not Microsoft.
Click here to see money flows in these popular technology stocks segmented by important categories, including "smart money" flows, and ranked as provided to The Arora Report subscribers. Our assessments of "smart money" flows are based on proprietary algorithms that dissect every trade and have been refined over decades.
In general, the conclusion is that the "smart money" is not buying this dip but is instead booking some profits.
Actions Speak Louder Than Words
Actions speak louder than words. For this reason, I will simply share with you what we are doing with these stocks. We undertook short-term trades on AMD twice. The first buy was on rumors of a big order from Apple…Read more at MarketWatch
You are receiving less than 2% of the content from our paid services …TO RECEIVE REMAINING 98%, TAKE A FREE TRIAL TO PAID SERVICES.
Please click here to take advantage of a FREE  30 day trial.
Check out our enviable performance in both bull and bear markets.
FREE: SUBSCRIBE TO 'GENERATE WEALTH' NEWSLETTER