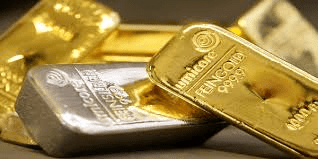 BEAR OPERATIORS TIGHTEN GRIP ON GOLD, SILVER
Punters have tightened their grip on gold and silver, whose prices have been falling consistently. Gold has fallen over five per cent in the past one month on rising US interest rates and the metal tracking US bond yields more than the dollar index.
Last month, both the US Dollar Index and the gold price were sliding, breaking its inverse correlation. However, gold was tracking inversely the rising bond yields in the US.
In the past one week, US 10-year treasury bond yields have risen from 2.13 to 2.34 per cent, while gold has lost three per cent of its value. Even risk averseness has made investors moving away from gold. The gold-silver ratio has also risen to a 13-month high, indicating that silver prices were falling faster than gold's with the drop in metal prices.
Nigam Arora, author of The Arora Report and international market analyst following algorithms, said, "There are lots of stops below $1200."
Usually, in a falling market, price halts at the immediate lower stop-loss, but gravity of selling may force breaking a low-side stop-loss, dragging the market further low, which is not ruled out for gold.
Arora said, "At present, in the bullion market hunt-and-destroy algorithms are operating. If opportunity arises, they will take out the stops, perhaps to $1,182-1,194". In other words, the market is poised for further fall…Read more at Business Standard.
You are receiving less than 2% of the content from our paid services …TO RECEIVE REMAINING 98%, TAKE A FREE TRIAL TO PAID SERVICES.
Please click here to take advantage of a FREE  30 day trial.
Check out our enviable performance in both bull and bear markets.
FREE: SUBSCRIBE TO 'GENERATE WEALTH' NEWSLETTER