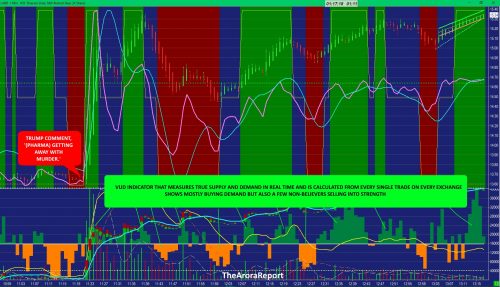 Donald Trump knocked yet another industry in his press conference Wednesday, but this time it wasn't manufacturers or car makers. It was health care. And shares of U.S. pharmaceutical companies promptly fell, dropping by an average range of about 3% to 5%.
"We've got to get our drug industry back," he said. "Our drug industry has been disastrous. They're leaving left and right. They supply our drugs, but they don't make them here, to a large extent. And the other thing we have to do is create new bidding procedures for the drug industry because they're getting away with murder. Pharma … has a lot of … lobbyists and a lot of power, and there's very little bidding on drugs. We're the largest buyer of drugs in the world, and yet we don't bid properly, and we're going to start bidding and we're going to save billions of dollars over a period of time."
The chart
The best way to illustrate investors' reaction is with the annotated chart of the Direxion Daily S&P Biotech Bear 3X Shares LABD,  a leveraged inverse biotech ETF. Please click here for the chart.
The chart shows that immediately after Trump's comment, the inverse ETF jumped about 12%. (The ETF rises at three times the rate of the underlying stocks' decline.)…Read more at MarketWatch
LABD, PFE, JNJ, MRK, BMY, LLY, PJP, IHE, XPH, PPH, IBB, XBI, BBH, BIS,
You are receiving less than 2% of the content from our paid services …TO RECEIVE REMAINING 98%, TAKE A FREE TRIAL TO PAID SERVICES.
Please click here to take advantage of a FREE  30 day trial.
Check out our enviable performance in both bull and bear markets.
FREE: SUBSCRIBE TO 'GENERATE WEALTH' NEWSLETTER