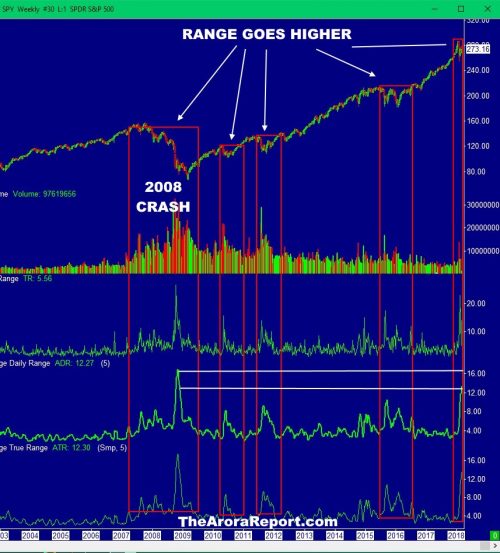 What the U.S. stock market does next may come down to one decision by President Trump. To understand this important decision, let's first look at a chart, then the earnings backdrop and, finally, the decision.
Chart
Please click here for the annotated chart. The chart is of S&P 500 ETF SPY.  Similar observations can be made from the charts of Dow Jones Industrial Average DJIA,  Nasdaq 100 ETF QQQ,  and small-cap ETF IWM. For transparency, this is exactly the same chart that was previously published.
Please observe the following from the chart:
• The chart shows, with red rectangles, the times when the daily range expanded.
• The chart also shows that when the daily range expanded, there was usually a dip in the market.
• The chart shows that most of the dips have been less than 20%, but the market was cut nearly in half during 2008 range expansion.
Here is the most important question from the chart: "How big will the ultimate drop be from the current range expansion, or has the maximum drop already happened?"
Earnings backdrop
In the very long term, the big determinate of stock prices is earnings. When Dow Jones Industrial Average was trading around 18,000 points and almost nobody was talking about the kind of bullish market we have seen, The Arora Report laid out a case for Dow 30,000 and subsequently repeated it. Please see "Here's the case for Dow 30,000 in Trump's first term."
Technical backdrop
As The Arora Report has previously shown, from a technical perspective, higher prices are still likely ahead, though with more volatility. Please click here for a chart showing the bullish "W" pattern….Read more at MarketWatch.
A knowledgeable investor would have turned $100,000 into over $1,000,000 with the help from The Arora Report. NOW YOU TOO CAN ALSO SPECTACULARLY SUCCEED AT MEETING YOUR GOALS WITH THE HELP OF THE ARORA REPORT. You are receiving less than 2% of the content from our paid services. …TO RECEIVE REMAINING 98% INCLUDING MANY ATTRACTIVE INVESTMENT OPPORTUNITIES, TAKE A FREE TRIAL TO PAID SERVICES.
Please click here to take advantage of a FREE  30 day trial.
Check out our enviable performance in both bull and bear markets.
FREE: SUBSCRIBE TO 'GENERATE WEALTH' NEWSLETTER