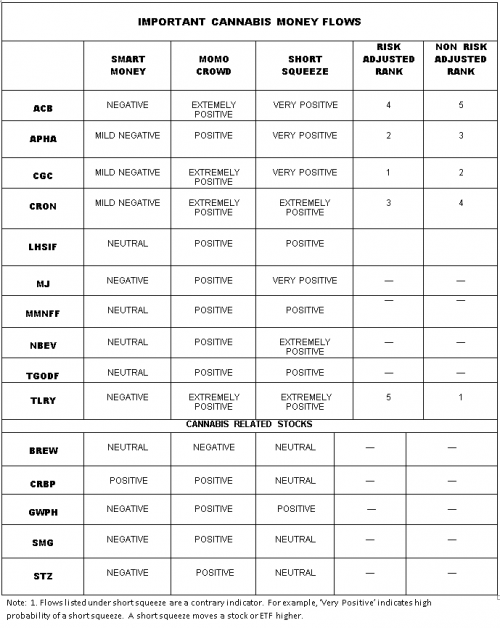 With Aurora Cannabis and most other marijuana stocks, sentiment and short squeezes are directing price action
Late last month, optimism was building among average investors about Aurora Cannabis' earnings.
Even though they continued to buy Aurora Cannabis ACB  stock in the days leading up to the company's earnings report after the stock market closed Monday, many were surprised to see the stock fall. Bulls were expecting the stock to hit $10. But Aurora Cannabis peaked Feb. 4 at a little over $8. ACB.
Many investors are still oblivious of the froth in marijuana stocks. They continue to believe that all they have to do is buy a few stocks like Aurora Cannabis and they will become rich.
For those serious about making money in marijuana, there is a better way. It's a tool called segmented money flows.
Since I wrote "How to potentially become a marijuana millionaire, albeit carefully" (with the most important word in the headline being "carefully"), a lot of money has been made in marijuana stocks by following money flows and ignoring earnings. That's what we do at the Arora Report.
Let's examine current money flows with the help of a chart to help marijuana investors.
Chart
Please click here for a chart showing segmented money flows in 15 popular marijuana stocks. Please note the following:
• The market capitalization of several marijuana companies are into the billions of dollars. It is nonsensical to trade these companies based on the differences of a few million dollars in earnings or revenues, which are currently at low levels.
• The real reason behind the latest move has been short squeezes, not a change in fundamentals. I will explain short squeezes later on.
• As the chart shows, smart money flows (those of professional investors) in Aurora Cannabis are negative. Going into the earnings, smart money flows in Aurora Cannabis were mildly negative.
• Aurora Cannabis stock first fell after the earnings report, but then rebounded on another mini-short squeeze. Short sellers often buy when a stock dips to lock in profits. Their buying drives the stock up. This forces other short sellers to start buying the stock to "cover their shorts," leading to a short squeeze.
• Marijuana stocks trade on sentiment.
• As the chart shows, momo crowd (average investors) money flows are extremely positive in Aurora Cannabis, Canopy Growth CGC,  Cronos CRON and Tilray TLRY. Please see "If you buy only one marijuana stock, this should be it."
• In contrast, smart money flows are mildly negative in Aphria, Canopy Growth and Crones.
• As the chart shows, momo crowd money flows are positive in Aphria APHA,  Liberty Health LHSIF, MedMen MMNFF,  Green Organic Dutchman Holdings TGODF   and New Age Beverages NBEV. Please see "What to do now if you own, or want to buy, marijuana stocks."
• Momo crowd money flows are positive in GW Pharmaceuticals GWPH,  Scotts Miracle-Gro SMG and Constellation Brands STZ. Smart money flows in these stocks are negative….Read more at MarketWatch.
A knowledgeable investor would have turned $100,000 into over $1,000,000 with the help from The Arora Report. NOW YOU TOO CAN ALSO SPECTACULARLY SUCCEED AT MEETING YOUR GOALS WITH THE HELP OF THE ARORA REPORT. You are receiving less than 2% of the content from our paid services. …TO RECEIVE REMAINING 98% INCLUDING MANY ATTRACTIVE INVESTMENT OPPORTUNITIES, TAKE A FREE TRIAL TO PAID SERVICES.
Please click here to take advantage of a FREE  30 day trial.
Check out our enviable performance in both bull and bear markets.
FREE: SUBSCRIBE TO 'GENERATE WEALTH' NEWSLETTER