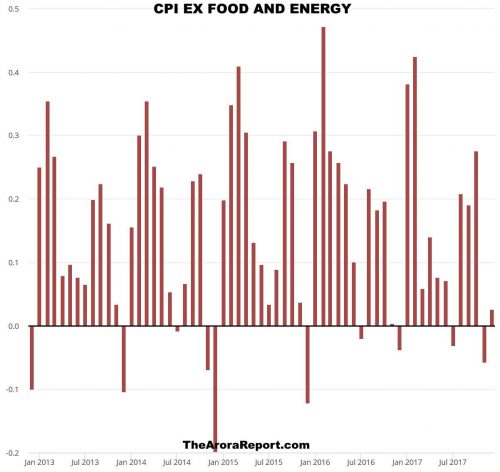 The stock market decline more than a week ago was kicked off by higher-than-expected wage increases that showed up in the January jobs report.
Higher wages are raising the specter of inflation. As a result, interest rates have risen rapidly as investors and traders anticipate that the era of benign inflation may be coming to an end.
Does it make sense to wait until the next inflation-related data point is released before making big buy or sell decisions in the markets? If yes, please read on.
The Morning Capsule that is made available to the subscribers to The Arora Report every day before the market open said: "From a fundamental perspective, the reason for the downdraft is the specter of inflation. On Wednesday morning at 8:30 a.m. ET, the Consumer Price Index (CPI) will be released. The smart money appears to be waiting for this data before acting."
So the all-important inflation report coincides with Valentine's Day this year. May both events be favorable to investors …
Let's examine inflation using a chart.
Chart
Please click here to see the chart of the Consumer Price Index (CPI) excluding food and energy prices. Please note the following from the chart:
• The specter of deflation is over.
• CPI ex-food and energy can vary quite a bit from month to month.
• The Federal Reserve has been targeting 2% inflation. The data so far are not out of line
The consensus is for CPI to come in at 0.4%. Expect machine-driven investing strategies to buy stocks if that number is lower and sell if the number is higher. However, most investors should not react to what machines may do when the news hits.
At The Arora Report we look at CPI ex-food and energy; our estimate is 0.2%….Read more at MarketWatch.
A knowledgeable investor would have turned $100,000 into over $1,000,000 with the help from The Arora Report. NOW YOU TOO CAN ALSO SPECTACULARLY SUCCEED AT MEETING YOUR GOALS WITH THE HELP OF THE ARORA REPORT. You are receiving less than 2% of the content from our paid services. …TO RECEIVE REMAINING 98% INCLUDING MANY ATTRACTIVE INVESTMENT OPPORTUNITIES, TAKE A FREE TRIAL TO PAID SERVICES.
Please click here to take advantage of a FREE  30 day trial.
Check out our enviable performance in both bull and bear markets.
FREE: SUBSCRIBE TO 'GENERATE WEALTH' NEWSLETTER