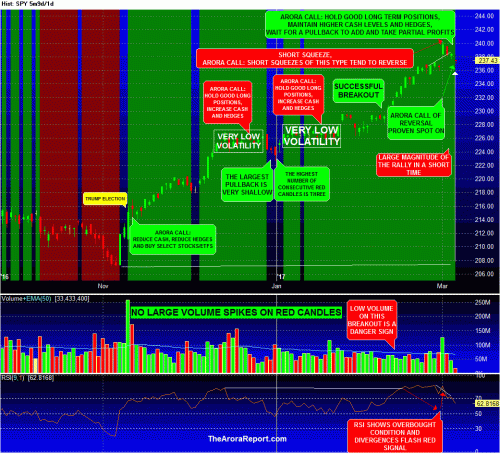 President Trump's tweet accusing his predecessor of wiretapping him during the campaign — followed by Barack Obama's denial — has created a highly sensitive subject for many people.
With this type of allegation flying around, investors must be pragmatic and review the hard data without a political lens.
This is happening at a time when the stock market is vulnerable in the short term, as illustrated by the annotated chart of S&P 500 ETF SPY,  (Please click here for the annotated chart.) The negative signals include relative strength indicator (RSI) divergences from the price action, RSI rolling over from an overbought condition, volume and volatility patterns, and the magnitude of the rally in such a short span.
The most negative signal is that the 300-plus increase in the Dow Jones Industrial Average DJIA,  from just a few days ago has reversed itself, as I predicted. (Please see "Here's the real reason behind Dow 21,000 (no, it's not Trump's speech).") Still, these are only short-term negatives; the long-term bull case remains intact. (Please see "Here's the case for Dow 30,000 in Trump's first term.")
Different lenses
Obama supporters contend that Trump provided no evidence for his assertion. Trump supporters are using this case as fuel to advance their agenda. As my long-time readers know, I am politically agnostic; my sole objective is to help investors generate wealth…Read more at MarketWatch
You are receiving less than 2% of the content from our paid services …TO RECEIVE REMAINING 98%, TAKE A FREE TRIAL TO PAID SERVICES.
Please click here to take advantage of a FREE  30 day trial.
Check out our enviable performance in both bull and bear markets.
FREE: SUBSCRIBE TO 'GENERATE WEALTH' NEWSLETTER